What is the benefit of a basketball shooting machine? Well, are you tired of chasing your missed shots all over the court cutting into your practice time? When practicing shooting, the majority of your time will be spent tracking down your missed and even your made shots. Luckily, there is a better way. A basketball shooting machine provide a way to make your practice much more efficient!
Like with all products, there are a few different options to choose from. In this article we break down the different basketball shooting machine options and try to help you choose the best one for you. With the cost so high for many of the basketball shooting machines, we also included a couple basketball rebounders as cheaper alternatives.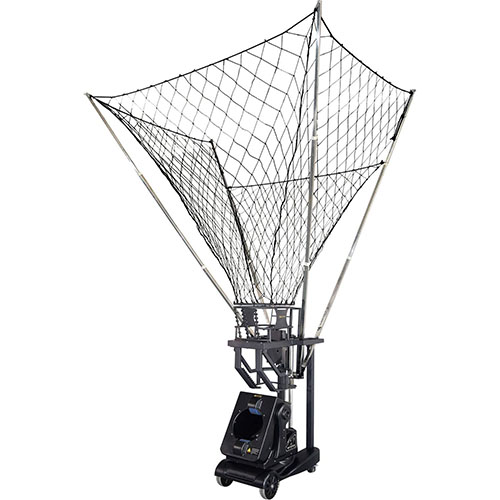 Siboasi Shooting Machine Basketball Rebounder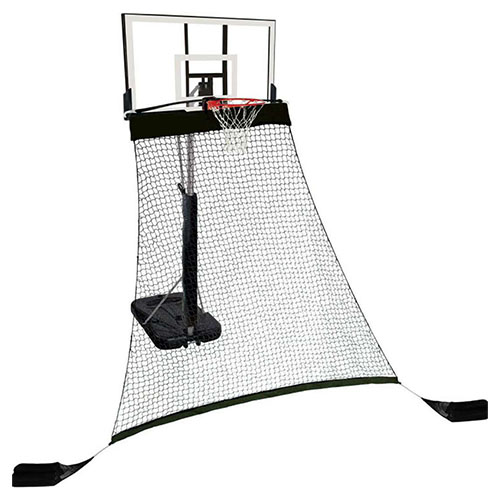 Hathaway Rebounder Basketball Return System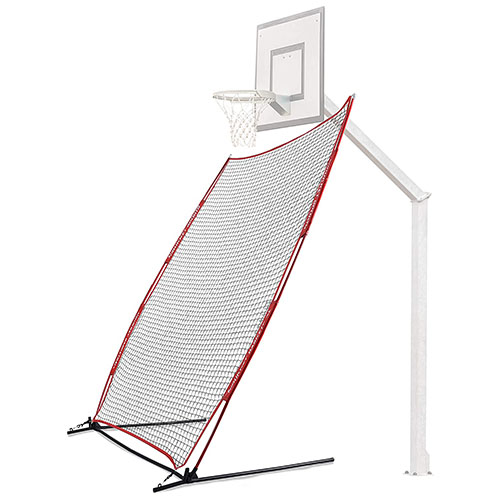 Rukkett Rebounder Basketball Air Defense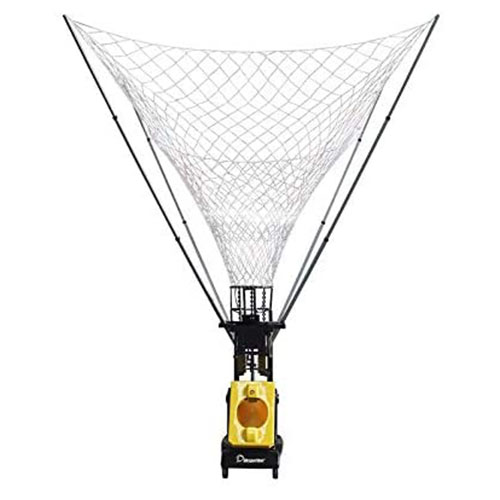 MYOM Basketball Shooting Machine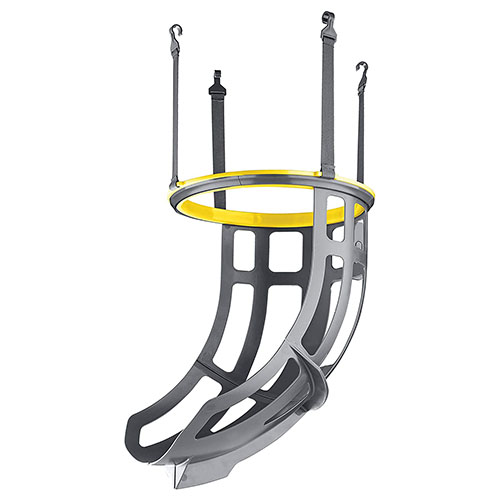 SKLZ Kick-Out Basketball Return
1. Siboasi Shooting Machine for Basketball
This top-selling basketball shooting machine allows basketball players to put up three times as many shots at home and get the most out of their basketball training. The Siboasi Shooting Machine Basketball Rebounder is one of the fastest ways to accelerate skill development for basketball shooting.

This rebounder machine allows you to practice any time, with or without a partner. Additionally, the variable speed adjustments allow players to comfortably adjust the speed of serving frequency to their training goals.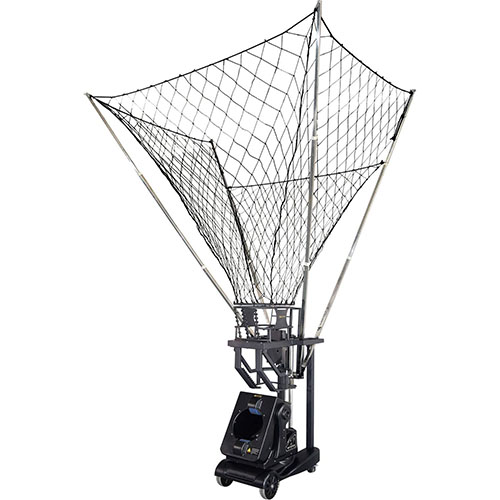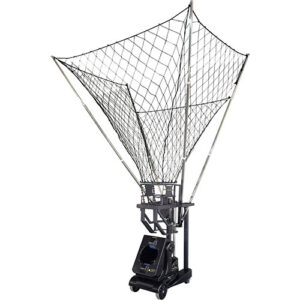 Top Features:
Various training methods
Basketball storage system
Remote control with LCD interface
Ability to strengthen and fix shooting posture
2. Hathaway Rebounder Basketball Return System
This simple to use basketball rebounder net serves as your constant teammate to allow you to improve your practice. The Hathaway Rebounder Basketball Rebounder helps you save time on chasing loose balls and focus on improving your shooting.

This return system is constructed of a heavy-duty polyester and is easy to assemble. Need an affordable piece of equipment that will help you perfect your shot without breaking the bank? This rebounding system will optimize your practice and will save you some money over a basketball shooting machine.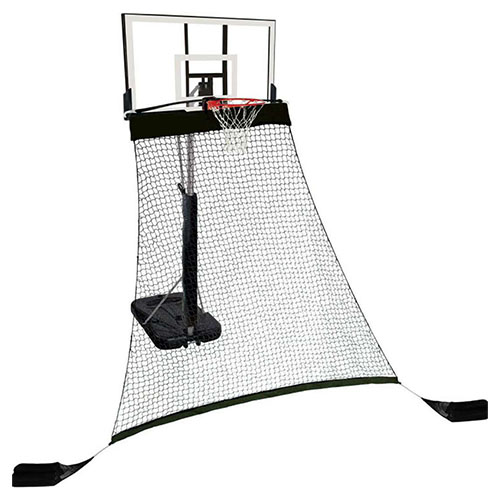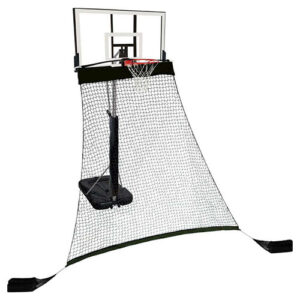 Top Features:
Heavy-duty netting construction
Simple assembly with no tools or screwed required
Water bags included for stability
3. Rukkett Basketball Air Defense Return Net Guard and Backstop
Tired of running down the street for your basketball? The Rukkett Basketball Air Defense Return is the perfect ball catch system to prevent this so you can spend more time practicing. Not only is this net perfect to use to return your balls, but it doubles as a shot blocker. By adjusting the net to its upright position, use the net to serve as a defender to practice shooting jumpers over.
This basketball rebounder net comes backed with a lifetime warranty to assure customers. The Air Defense Return Net Guard is available in two sizes: standard 6 by 10 and a larger, XL model.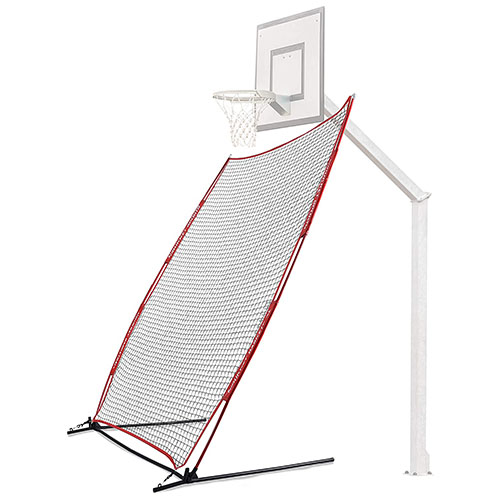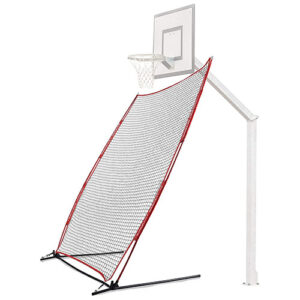 Top Features:
Simple set up in just minutes
Easy ball collection and roll back
Carry bag included
Backed by warranty
4. MYOM Basketball Shooting Machine
The MYOM Basketball Shooting Machine is a very versatile basketball rebounder machine. This basketball machine is easy to use and can help you improve your basketball skills by focusing on your shot. The quick return time allows you to keep on shooting, without running after your basketball. The adjustable ball return points in any direction. This basketball machine is heavy-duty and made to last.
Top Features:
Quality construction
Quick return time
Automatic return system
280-pound total weight
5. SKLZ Kick-Out Basketball Return Attachment
Looking for a basketball return solution that doesn't cost quite as much as automatic return machines? This simplistic basketball return attachment features a rotating and adjustable chute to return your basketballs. The SKLZ Kick-Out model is an inexpensive and quick way to improve your practice. The easy clip installs on any hoop in a breeze. This attachment can help improve basketball practice for all types of basketball players.
Top Features:
360 Degrees Rotation capabilities
Fast assembly
Compatibility with any basketball hoop
Affordable price 
Who uses a Shooting Machine for Basketball Practice?
Many coaches around the country are realizing the importance of optimizing their practices. A more efficient practice leads to better results during games. Which is why many high schools, colleges, and professional teams have turned to basketball shooting machines to enhance their practices. With shooting, especially three-pointers, becoming a more vital part of the game each year, coaches want their players to get as many reps in as possible.
Not only are schools and professional teams using basketball machines for shooting practice, but they are becoming more common for sports facilities and home use. With sports being so competitive in this day and age, everyone is looking for a leg up on their competition. A basketball shooting machine, when used correctly, will certainly help athletes improve their shooting percentage.
Benefits of a Basketball Shooting Machine
A shooting machine for basketball practice will increase the amount of repetitions during practice. How much? Many coaches who utilize basketball shooting machines agree that it is around a 300% increase in repetitions.
Think about that for a second! You are making your practices 3x more efficient. A shooting machine will drastically help players improve their shots, while allowing more practice time for other drills. If you have the money in the budget to afford one, it is a no-brainer!
Improves Shot Form & Consistency
Most of shooting the basketball is muscle memory. Because of this you want your players to practice with the correct form. This way they shoot with the right form and accuracy during a game.
Unfortunately, many practices are run where the kids are trying to get as many shots off as they can. There is only so much practice time and a lot of kids on the team. However, a basketball shooting machine maximizes the practice and allows kids to focus on their shooting form, while still getting plenty of reps. It essentially speeds the practice up, while allowing players to slow things down to get their shot off correctly.
Not only does the basketball shooting machine allow for more reps, but it also forces players to put the correct amount of arc on their shot. How? The shooting machines net sits high above the net, upwards of 17 feet, which forces players to arc their shot. Over time, this will help them correct their shots that may come out of their hands too flat.
You will have the shooting machine you are interested in purchasing, however some options come with the ability to track your shooting skills. For example, the Dr. Dish Professional Basketball Shooting Machine allows players to track their shooting statistics through their app. Pretty cool stuff! The app allows you to gain insights to your progress to help you further improve your game.
Purchasing a shooting machine for basketball practice or a rebounder helps you level-up your basketball game. Practice on your own on any court with these top basketball shooting machines and rebounders. For players looking to dramatically improve their shot, an automatic rebounder helps you get the repetition you need. After all, practice makes perfect!
The shooting machine for basketball and rebounder options vary depending on your needs. Need a simple solution? Try the SKLZ Kick-Out Basketball Return Attachment to click right onto your basketball hoop. Your basketballs will return to you without having to run after each shot! For a faster option for continuous basketball shooting, check out the Siboasi Shooting Machine Rebounder with variable speed settings.