Are you looking for a commercial pitching machine that will last you a long time? One that will withstand the constant pressure of commercial use. While there are plenty of different options on the market, there are only a select few that you can rely on to be a workhorse day in and day out. Our team put a list together of the top 5 commercial grade pitching machines on the market in order to help make your decision easier.
1. BATA 2 Commercial Pitching Machine
As far as 2-wheel pitching machines go, it does not get much better than the BATA 2. Many MLB teams utilize the BATA 2 Pitching, as well as other high-level college baseball and softball programs.

It is a trusted hitting tool for many athletes across the country. Not only is it a trusted machine, but it is also durable. BATA manufactures some of the most durable, commercial grade pitching machines on the market. BATA 2 has a lot of features that make it stand out in front of the competition and it all starts with their wheels.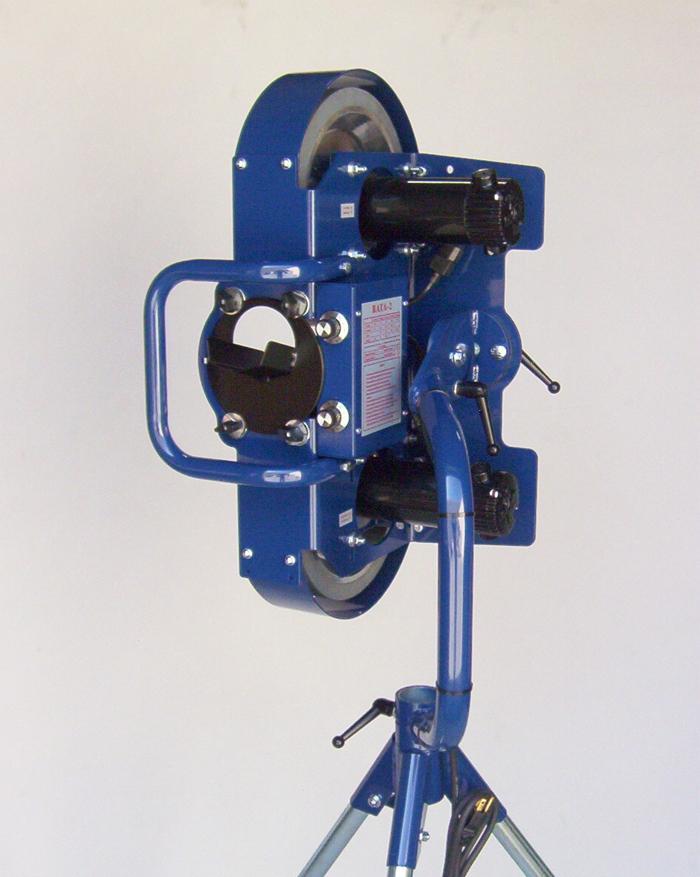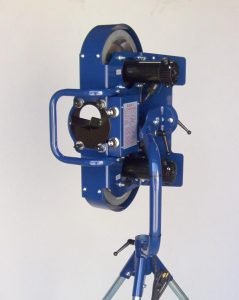 BATA constructs all their pitching machines with Goodyear Wheels. The Goodyear Wheels last longer than the ordinary wheel and provide much more accuracy. BATA's reputation of producing the most accurate machines on the market is due in large part to the Goodyear Wheels.
Another great feature of the BATA 2 is the heavily guarded pitching wheels. There are two main advantages of heavily guarded wheels. The first is that it protects the machine from comeback line drives and errant throws. Secondly, it is a great safety feature to prevent kids (and coaches) from getting their fingers stuck in the machine.
A big reason the BATA 2 Commercial Pitching Machine ranks #1 on our list for commercial pitching machines is because of its warranty. The 10-year warranty that BATA offers is unmatched throughout the industry. BATA believes in their product line and backs up their products with a long warranty because they know it will last.
2. ATEC M3X Pitching Machine
The ATEC M3X Commercial Pitching Machine was built to be a combination of the ATEC's R2, M2, and M3 all mixed into one. ATEC has been around the baseball world for a long time, especially considering their parent company is Wilson Sports. The ATEC M3X is revolutionary as it combines one of the best defensive training machines and two of the best hitting machines into one.

While you pay a premium for a three-wheel machine, there is no doubt that they are superior to two-wheel and single-wheel options. The ATEC M3X Pitching Machine is no exception.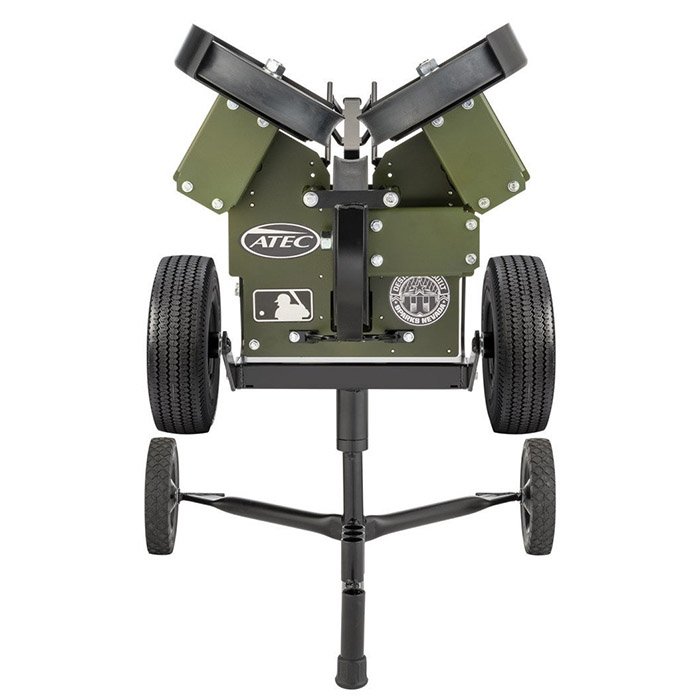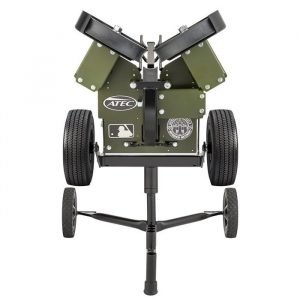 ATEC recently brought the M3X to market and it has been a major hit. Why? The ATEC M3X is the perfect training tool for coaches who put an emphasis on both hitting and defensive training during practice. Additionally, the ATEC M3X is a commercial grade pitching machine that withstands continuous use in a batting cages, sports facility, or any other commercial settings.

A three-wheel design allows hitters to have a better view of the ball coming out of the machine. Sometimes the knock on pitching machines is that it throws off a batter's timing. With the ATEC M3X, hitters will get a real game feel for timing.
3. Junior Hack Attack Commercial Pitching Machine
Sports Attack aimed to offer a more affordable version of their Hack Attack Pitching Machine. In came the Junior Hack Attack. The Junior Hack Attack has all the same features and capabilities of the Hack Attack, except for speed.
The Junior Hack maxes out at 70 MPH, while the Hack throws up to 100 MPH. However, you will save a lot of money with the Junior Hack if 100 MPH fastballs are not overly important to you.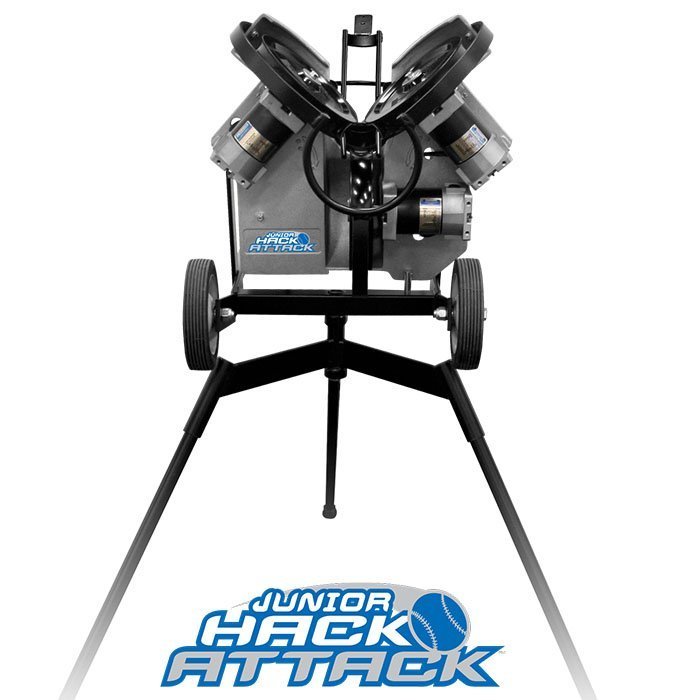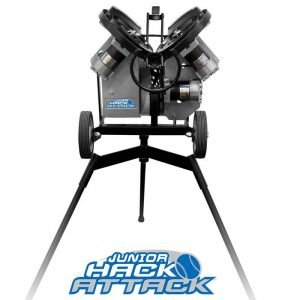 With top speeds of 70 MPH, we mainly see the Junior Hack Attack bought by advanced little league players, middle school players, and high school players.
One of the downsides of the Junior Hack Attack is that Sports Attack does not offer the machine as a combo. This means you can only use for baseball or softball. You will have the option to buy a convertor that allows you to switch between baseball and softball. However, the convertor costs extra and the process to change takes upwards of 30 minutes. The transition between baseball and softball is much easier with other pitching machines.
Not only is the Junior Hack Attack more affordable than the other pitching machines on the list, but it is also just as durable. Sports Attack did not jeopardize any of the machines strength or durability when putting it up against the original Hack Attack. Sports Attack claims that they have never had to replace a wheel from wear, weather, or melting. The wheels on the Junior Hack Attack are strong and durable which leads to a lot of accurate pitches.
4. JUGS BP3 Pitching Machine
JUGS recently unveiled their BP3 Pitching Machine within the last couple years and it is a gamechanger! The BP3 is offered as either a baseball machine or a softball machine. We have had nothing but solid reports back from college softball and baseball coaches since the machine has hit the market.
5. Hack Attack Commercial Pitching Machine
The Hack Attack Pitching Machine is a three-wheel machine. Its three-wheel design allows coaches and parents to throw any breaking pitch imaginable. With top speeds of 100 MPH, the Hack Attack will challenge any hitter.
Why does the Hack Attack Pitching Machine rank on the list?
Sports Attack solely focuses on manufacturing and selling three-wheel pitching machines. Why? Because they believe that three-wheel machines are superior, not only in capabilities, but also in allowing the hitter the vision needed to succeed with timing. They believe three-wheel machines pitches most closely mimic that of a real pitcher.
Other than the commercial pitching machine having three wheels, the machine has plenty of other top-end features. The wheels on the pitching machine are one of Sports Attack's top selling points. Their pitching machine's wheels do not have any air pressure considerations.
Some of their competition's machines have pneumatic tires that must be checked constantly. A drop in the air pressure and the pitching machine will become inaccurate. You won't have this problem with Hack Attack.
Sports Attack backs their pitching machines with a 5-year warranty for parts and workmanship.